Durastill Model 4280 - 240V
High Demand - Commercial Applications Unlimited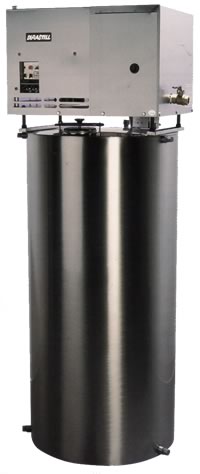 Model 4280 is a GIANT in the distiller industry. It is designed to connect to a demand pump providing distilled water "on tap". Proven to be very dependable over the years.

Model 4280 produces 159 liters (approximately 42 gallons) every 24 hours

5000 WATTS

Specifically designed for 240V 50-60 Hz

Storage tank is 18 gauge 304 stainless steel. Capacity of 310 liters (approximately 80 gallons). Optional tank of 150 gallons (approximately 570 liters) is also available

240 Volt switch in storage tank for high level control

Main power on/off control switch

Pilot controlling relay

Automatic water fill on/off control. Float control protected.

Low voltage external pilot circuit

240 Volt breaker-protected control circuit

Manually reset electrical thermostat

Low voltage external pilot circuit

Boiling tank is 18 gauge 316 alloy stainless.

Steel or aluminum cooling fins on stainless steel condenser coils

12" or 30.5 cm diameter codenser fan, 1/20 HP motor

Distiller cabinet – 20 gauge 304 stainless steel with black painted carbon steel suport structure for fan and coil

Comes complete with pre-filter/post-filter
Dimensions and Weight
Distiller: Model 42C
Height: 17 inches/43 cm
Width: 23 inches/58.5 cm
Depth: 18 inches/46 cm
Shipping Weight: 75 pounds/34 kg

Storage Tank:
Height: 52 inches/132 cm
Diameter: 23.3 inches/60 cm
Shipping Weight: 95 pounds/43.2 kg

Overall Height: 75 inches/190.5 cm
Return to Products
© 2001-2008 Durastill Export, Inc. All rights reserved.