WHAT IS DISTILLATION?
DISTILLATION IS THE MOST FUNDAMENTAL PROCESS OF WATER PURIFICATION
It has provided our earth's water for thousands of years through the hydrologic cycle, Nature's process of evaporation and precipitation.
The DURASTILL distiller can remove a higher percentage of contaminants and will consistently provide better than a 99% plus removal rate.
HOW DURASTILL WORKS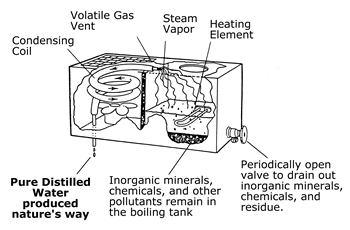 In the distillation process, water in the boiling tank comes to a boil, creating steam.

The steam rises, leaving behind bacteria killed in the boiling process, as well as chemicals, heavy minerals and pollutants found in the water source.

The steam moves past a volatile gas vent, into the condenser coils where it is cooled by air and condenses to become pure distilled water.
99% removal rate of the following inorganic minerals, chemicals and other pollutants by DURASTILL distillation:
Bacteria: e-coli, crypsosporidium, giardia, fecal coliform, cholera and cysts
Inorganic: heavy metals, fluoride
Organics: chemicals such as chlorine, benzene, etc.
Radionuclides: radium 226/228, uranium
Particulates: dirt, sand, rust, etc.
No process, natural or artificial, including filtration, deionization and reverse osmosis is so durable, dependable, highly economical and consistent as Durastill distillation.
© 2001-2008 Durastill Export, Inc. All rights reserved.