Durastill Model 46C/4 - 220V
Countertop Champion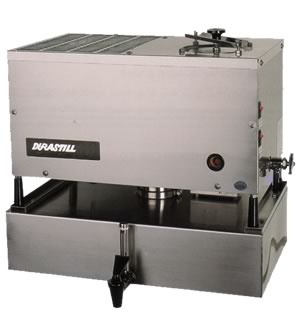 This model has an automatic system with a convenient contertop storage tank underneath. Perfect for apartment/condo or small kitchen space.
Model 46C/4 - 220V produces 46 liters (approximately 12 gallons) every 24 hours

Proven design with FLOAT CONTROL feature

Distiller has 316 stainless steel alloy evaporators

Incoloy (stainless steel) heating element

Volatile gas vent system

Comes with complete pre-filter/post-filter
COUNTERTOP STORAGE TANK
This Countertop Storage Tank is to be used with the Model 46C

Automatic high level float control

Convienient faucet with water site gauge

16 liter or approximately 4 gallons in Stainless Steel storage
Dimensions and Weight
Distiller: Model 46C
Height: 13 inches/33 cm
Width: 20 inches/51 cm
Depth: 13 inches/33 cm
Shipping Weight: 41 pounds/18.6 kg

Storage Tank:
Height: 5.5 inches/14 cm
Width: 20 inches/50.8 cm
Depth: 13 inches/33 cm
Shipping Weight: 14 pounds/6.4 kg

Overall Height: 18.5 inches/47 cm
Return to Products
© 2001-2008 Durastill Export, Inc. All rights reserved.