Durastill Remote Faucet System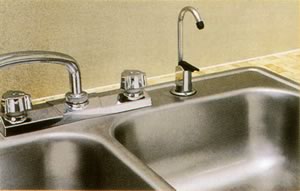 THE ULTIMATE IN CONVENIENCE !

Connects to storage tank and sends the distilled water to a special faucet at the sink.
Complete with all necessary plumbing supplies

Pump only runs while water is being drawn

Maintains line pressure, so it supplies water instantly

Stainless steel pulsation eliminator tank supplies even flow

Activated charcoal filter polishes taste of water

220V operation

Complete with stainless touch-faucet
Dimensions and Weight
Height: 14 inches/35.5 cm

Width: 13 inches/33.0 cm

Depth: 10 inches/25.4 cm

Weight: 20 pounds/44 kilos
The Remote Faucet System cannot be used with Countertop Model 46C/4 - 220V.
Return to Products
© 2001-2008 Durastill Export, Inc. All rights reserved.